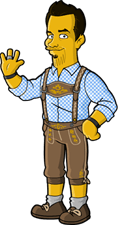 Sorry, the days of being able to simply purchase SEOktoberfest tickets have passed.
SEOktoberfest is and has been, for at least the last few years an invitation-only event. We do love fresh blood so, if you really think you have got what it takes, you can apply to be added to the waiting list. Unfortunately at this point in the experiment there are only one or two "new" tickets each year going to savvy SEO aficionados.
If you would like to be considered for attendance at SEOktoberfest, you can apply
HERE
for a ticket!